Drinking coffee, discussing Beethoven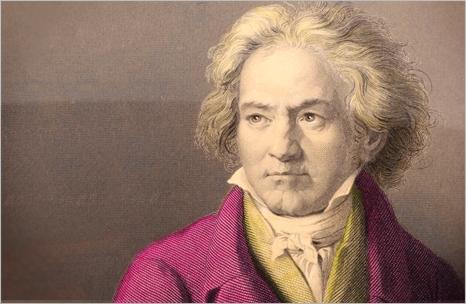 Bring researchers from different backgrounds together and sooner or later, new ideas will pop up. It is one of the mantras of the value of multidisciplinary research and a driving force behind many large-scale research initiatives, including the Netherlands Metabolomics Centre. A paper by NMC-researchers Edoardo Saccenti, Age Smilde (both of the University of Amsterdam) and Wim Saris (Maastricht University) in the 2011 Christmas issue of the British Medical Journal offers proof.
Not scientific proof of course, but it certainly makes for a nice anecdotal proof. Especially because the topic of the paper has nothing to do with metabolomics. Or even with the scientific fields these researchers operate in, respectively biostatistics and food research. The paper is on Beethoven. Say what? Yes, a paper on the famous composer and how his deafness is reflected in his musical styles. Age Smilde explains how the three of them got entangled in such a far-off topic.
Musical statistics
"It all started during a break on a NMC meeting, when Edoardo and Wim got talking at the coffee machine. Wim wondered whether there is any fun in doing statistics and Edoardo explained that you can apply statistics to many interesting topics, such as for example music", Smilde recalls. As a hobby project, Saccenti and Smilde already performed some statistical studies into Beethoven's work. Using so-called Principal Component Analysis (PCA) they analysed the structure of Beethoven's string quartets. "That got Wim interested. As it turned out, he is a music lover just like Edoardo and myself." One thing led to another and Saris suggested they try to demonstrate whether Beethoven's progressive deafness is reflected in his work.
High notes
The composer's deafness is very well documented, Smilde explains. "At first, Beethoven lost the ability to hear high notes, which moved to a gradual loss of hearing until complete deafness set in around 1825. Our hypothesis was that while his deafness progressed, Beethoven would more and more refrain from using high notes because he was unable to hear them when his compositions would be played back to him. We chose to focus on his string quartets and Edoardo put in a lot of work to count all the high notes in the various compositions. Plotting those numbers clearly revealed that Beethoven's use of high notes decreased indeed." Until the moment he lost all sense of hearing, from then on the high notes returned. "We believe this is because like many great composers, Beethoven had a strongly developed inner ear, which means that he 'heard' the music in his head. Once the deafness was complete, he exclusively relied on his inner ear and using high notes was no longer a problem."
Next: the piano
Apart from contributing to the field of music research, Smilde feels that this type of studies underline the power and value of statistics. "This work shows that statistics can be fun and that it can lead to all kinds of unexpected results." On a different level, it has unexpectedly introduced Saccenti and Smilde into a whole new area. "We have been invited to present our work at a conference on Beethoven the UK end of 2012." Before that, more work needs to be done. The two plan to perform a similar analysis on Beethoven's piano sonatas. Who knows, maybe someday the symphonies will follow. Lucky for Saccenti and Smilde, it is still just a hobby...
By: Esther Thole