Fish oil may prevent chemotherapy from having its full effect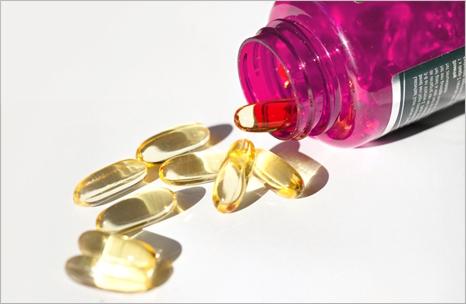 A component of fish oil may prevent chemotherapy from having its full effect (Photo by Thijs Rooimans).
When Arjan Brenkman's research team discovered that a component of fish oil may prevent chemotherapy from having its full effect, the University Medical Centre (UMC) Utrecht Hospital and the KWF Cancer association issued an immediate warning. Normally it takes years to turn fundamental knowledge of metabolites into practical applications for medicine or nutrition. "But as soon as we knew this effect was there, the clinic started warning patients," says Arjan Brenkman with obvious enthusiasm. "We are still struck about the immediate clinical implication of our findings".
Unsuspected outcome
In 2009 Arjan Brenkman was approached by oncologist Emile Voest. Voest' lab found that Mesenchymal Stem Cells (MSC's) had a protective effect on tumors, inhibiting the effect of chemotherapy. They suspected some kind of protein was responsible, and asked Brenkman to find it. "We worked on this mystery for almost a year," Brenkman explains. "We have a sensitive and highly accurate mass spectrometry (FT-orbitrap) device, which we can rewire to use with several ionization techniques. So we were confident that if the responsible compound could ionize, we would have a good chance find it. And we did, but it was a metabolite: unexplored territory for us at that stage."
Narrowing it down
The metabolites excreted by MSC's were a very complex mixture. A single mass spectrum of it contained thousands of compounds, far too many to scan separately for the tumor protecting effect. So they started narrowing down the suspects. Size, hydrophobicity, lipid type, number of chemical bonds… At each level of separation the fractions were tested for activity in a cancer mouse model. It turned out that two unique fatty acids were responsible. "When we deduced the chemical structures, I started feeling uneasy," Brenkman says. "One of the compounds was an omega-3 fatty acid that turned out to occur in high quantities in fish oil. As those are generally considered to be healthy, patients frequently use these oils to regain their strength after chemotherapy, thus possibly inadvertently reducing the effect of the treatment. Even more alarming; feeding the fish oil to mice with tumors had the same protective effect." Oncologist Voest immediately alerted the hospital which since then advises its chemotherapy patients to stay off the fish oil, pending further investigation.
Future research
To find out whether these protective compounds (PIFA's) are present in other products such as foods and health care products, Brenkman's team is working on diagnostic tests. Knowing what to look for, a single LC-MS/MS run is enough to detect the compounds and their concentration. "Also, we are checking that the effect we observed in mice works the same in humans," nuances Brenkman. "We monitor how well PIFA's survive the human digestive tract after ingestion."
They patented their findings. For healthy people, these PIFA's may have various roles towards good health, e.g. to protect against other poisonous substances. This could be a very interesting application for the food industry.
By: Bo Blanckenburg