On August 26th, the Leiden University spin-off MIMETAS has won the Young Technology audience award and the runner-up jury award during the international Conference on Commercialisation of Micro- Nanosystems (COMS 2013). MIMETAS received the audience and jury recognition in a highly competitive pitching competition with companies from the US, Sweden, Norway and the Netherlands in the finals.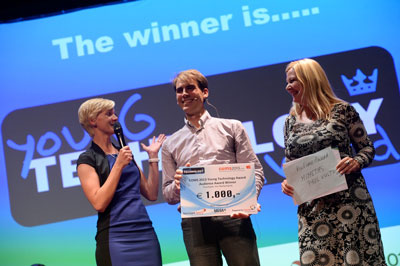 Paul Vulto, MIMETAS co-founder, receives the audience award
Steven Walsh, entrepreneurship professor in New Mexico and serial entrepreneur himself, said that "MIMETAS projects the vision of array-based screening on organotypic 3D cell cultures. This is a unique approach that surely is going to make a difference". Yanusz Bryzek, serial entrepreneur in Silicon Valley agrees: "[..] medical industry can't afford an unconstrained growth of medical care cost.  Mimetas development promises more than an order of magnitude cost reduction of new drugs discovery, a significant breakthrough supporting medical care cost reduction."
MIMETAS won the runner-up jury award just behind Houston-based C-Voltaics that markets non adhesive antibacterial coatings for a myriad of industries and before Sandia National Laboratories spin-off Ouchless Glucose, that develops a non-invasive real-time glucose monitoring system. The audience choose MIMETAS as winner with Ouchless Glucose as a runner-up.
For more information about MIMETAS: http://www.metabolomicscentre.nl/node/922