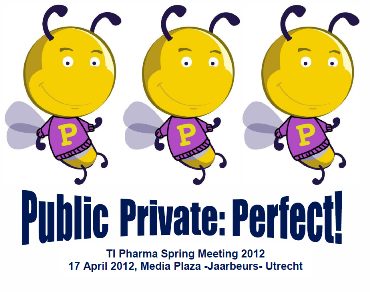 The first lustrum edition of the TI Pharma Spring Meeting will be held on Tuesday, April 17, 2012 at Media Plaza in Utrecht. At this meeting industrial researchers, academic scientists, regulatory experts, policy makers and more meet to discuss the latest advancements in drug discovery and development. We would like to invite you for this interesting event. Scientific perspectives, the organizational implications of working alongside in complex research projects and networking are the core topics you can subscribe yourself for on our registration site. 
Fostering public-private interactions is what TI Pharma is all about, and forms the basis for this year's theme 'Public Private: Perfect!'. With two plenary lectures on PPP examples in the United Kingdom, poster sessions and a number of parallel sessions in which both research as well as other topics are discussed, we offer you an attractive program.
Roadmaps for future public private partnerships in Pharmacotherapy and Neglected Diseases were recently presented to the Dutch government as part of the Life Sciences & Health 'topsector' innovation contract. With the discussions and interactions held at the Spring Meeting we aim to come to a next step in defining the public-private interactions in drug research for the future.
More information and registration: http://springmeeting.tipharma.com/