Fully validated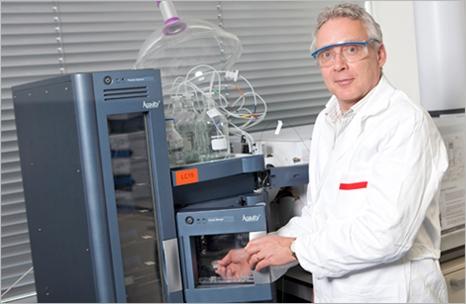 Rob Vreeken, Head of the Demonstration and Competence Lab (Photo by Thijs Rooimans)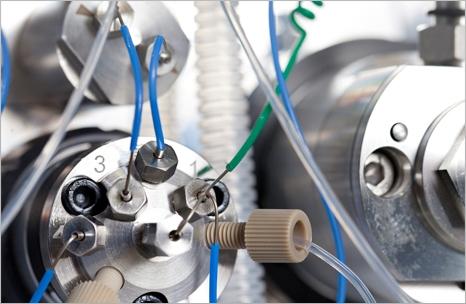 Close Up of one of the platforms of DCL (Photo by Thijs Rooimans)
Rob Vreeken, Head of the Demonstration and Competence Lab (DCL) explains what distinguishes DCL from other metabolomics facilities.
What does the Demonstration & Competence Lab offer?
"We offer a high quality and tailor-made metabolomics-based biomarker discovery service. DCL is a highly structured environment that employs thoroughly validated state-of-the-art platforms for measuring metabolites in various bio-fluids in order to identify biomarkers for disease and health."
And what does that mean, a structured environment?
"To us here at DCL, it is all about quality. The quality of the data will make or break your study. We work according to ISO17025 guidelines and in the environment we operate in everything has been validated to the extreme. The measurement platforms, operating procedures, sample handling, data collection, everything is tightly controlled. Whenever a platform is adjusted or we come across new insights, our standards are validated again. This way, we can guarantee that our data is very robust and reproducible. Our data is suited to perform real comparative studies and that is essential to finding reliable biomarkers."
How does DCL perform compared to similar facilities?
"As far as I know, there are no similar facilities, at least not capable of performing the type of large-scale studies like we can. We recently completed two large studies on biomarkers associated with healthy aging and weight management, respectively. For each study we processed 2700 human plasma samples, which together with controls, standards, blanks and replicates comes down to 4000 injections. In both studies we measured approximately 200 compounds in each sample. The variation in this data set, for all these compounds, was less than 10-15%, which is really good. Especially, considering the fact that a variation of 50-60% is considered normal by most labs."
But if most labs are happy with such a high degree of variation, why bother?
"The lower the variation, the higher quality of the data and the more we can zoom in on the actual biology. Low quality data are confusing, you don't know if the effect you see is truly representing a biological phenomenon or that it is just an artifact. You need to be able to trust your data."
Who can use the DCL facilities?
"The Demonstration and Competence Lab is the core facility of the Netherlands Metabolomics Centre and we therefore mostly work on NMC projects, but we also take on assignments from other parties. Academic groups, research institutes or industry, everyone is welcome to contact us and find out if and how we can support their research efforts."
Any additional requirements for potential clients?
"It is very important that we are contacted at an early stage. We are not a service lab that performs routine experiments on just any sample. We like to make a difference.
To live up to this ambition and to our own quality standards, we need to be involved in the design of the study, before the samples are actually generated. That way, we can ensure that we make the most of our advanced metabolomics measurements. As we all know: crap in means crap out. Even if you have access to high-level facilities like we have, you still need high quality samples to use the technology to its full potential. We can help to realize that potential by contributing to study design and sample collection. Tailor-made metabolomics measurements to answer biological questions, that is our business."
By: Esther Thole